Athenaeum
The Sanford J. Ungar Athenaeum is a high-tech library, a public forum, a café, an art gallery, a radio station—and many other spaces—all in one. You might say it's the intellectual, cultural, and social crossroads of the campus.
1021 Dulaney Valley Rd, Towson, MD 21204, USA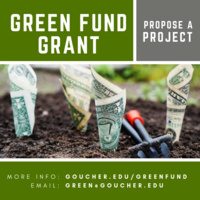 Want funding to develop a sustainability project? Stop by and chat with the Sustainability Coordinator about your ideas, or sit down and get help developing...
Recent Events