Buchner Hall of the Alumnae/i House
The Alumnae & Alumni House, home of the Alumnae & Alumni of Goucher College and the Goucher Quarterly alumnae/i magazine.
1021 Dulaney Valley Rd, Towson, MD 21204, USA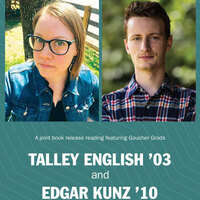 The Kratz Center for Creative Writing at Goucher College presents a joint book release reading featuring novelist Talley English and poet Edgar Kunz, both...
Interested in connecting with alums who work in Business, Entrepreneurship, Technology, or Analytics? Come meet with Goucher grads and learn about the work...
Novelist Vanessa Manko, the 2019 Kratz Writer in Residence at Goucher College, will give a reading at 8:00 pm. on Wednesday, April 17, 2019, in Buchner Hall....
Recent Events