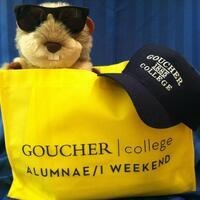 Alumnae/i Weekend 2013
Alumnae/i Weekend 2013 will be held April 26-28. Registration is now open!
Classes ending in 3's and 8's will be 'reunioning' but the events listed below are open to all alumnae/i, family, and friends. Here are some of the upcoming events.
Friday:
-Intellectual Fair, including faculty lectures, open classes, and the Digital Arts Showcase
Saturday:
-Ceremony for the Alumnae/i Award for Excellence in Public Service
-Blue & Gold Weekend- Alumnae/i Games
-Jane Austen Celebration honoring the 200th anniversary of Pride and Prejudice
-Maryland Shakespeare Festival performance: Shakespeare in the Round
Visit the Alumnae/i Weekend 2013 event website for more information. Questions? Contact Sarah Stockbridge at sarah.stockbridge@goucher.edu or 410-337-6180.
Future Alumnae/i Weekend Dates:
April 26-28, 2013 / April 25-27, 2014 / April 24-26, 2015
To purchase photos from Alumnae/i Weekend 2012, visit the website of our photographer Stan Rudick. To retrieve the password, email alumni@goucher.edu.
Sunday, April 28, 2013
Goucher College
Event Type

Departments

Website
Hashtag

Subscribe