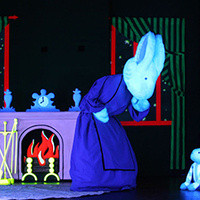 Arts on Stage: Goodnight Moon & Runaway Bunny
These widely-travelled productions incorporate innovative puppetry, striking scenic effects, and evocative original music to provide very young audiences with an effortless introduction to the performing arts and the excitement of reading. Goodnight Moon and The Runaway Bunny features these same elements.
Goodnight Moon is a celebration of familiar nighttime rituals, while The Runaway Bunny's pretend tale of leaving home evokes reassuring responses from his loving mum. Both tales feature endearing rabbit characters, and the soothing rhythms of bunny banter and dream-like imagery never fail to infuse young readers with a reassuring sense of security. Mermaid's staged adaptation will bring a new sense of appreciation to stories that have delighted several generations.
Due to the magnitude of this show, the tickets are $10.00. Discounts and Teacher tickets still apply.
Contact Arts On Stage for Tickets. Two showtimes at 10:15am and 12 Noon. Appropriate for grades PK-2.
Tuesday, February 13 at 12:00pm
Kraushaar Auditorium
1021 Dulaney Valley Rd, Towson, MD 21204, USA
Event Type

Website
Cost

$10

Subscribe