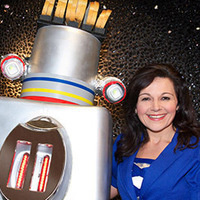 Arts on Stage: Janet's Planet: Tour the Solar System
Back by Popular Demand!!! Janet's Planet and her JP Space Crew are taking their new friends on an out of this world adventure! Janet, along with Galileo her Super Computer, Cody the Robot, Professor Cosmos and Dr. Coment are going to start at the SUN and share the wonders of our Solar System by visiting every planet orbiting around the star at the center of it all! One young astronaut (a special cadet in training from the audience) will even get to walk on the moon! You won't want to miss this intergalactic problem-solving mission fueling STEAM (Science/Technology/Engineering/Art & Design/Math) potential in young earthlings everywhere.
A FREE add-on simulcast with former NASA Astronaut, Dave Thomas, is available with a reservation to this field trip. Once a reservation is made, you will receive an email regarding the simulcast.
Contact Arts On Stage for Tickets. Two showtimes at 10:15am and 12 Noon. Appropriate for grades PK-12.
Friday, January 26 at 12:00pm
Kraushaar Auditorium
1021 Dulaney Valley Rd, Towson, MD 21204, USA
Event Type

Website
Cost

$9

Subscribe