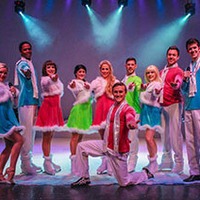 Arts on Stage: SkateTacular Winter Dreams on Ice
Join an all-star cast of world famous professional ice skaters, singers, dancers, and cirque acts as they glide across the stage in an ice experience like no other. Introducing Skateacular Dreams On Ice: the first ever ALL ORIGINAL live sung ice musical, featuring a one of a kind soundtrack from Mirror Mirror Music. Follow our cast as they dream through the seasons in search for eternal winter, but beware nothing is more powerful than your imagination. For in a moment you could be skating right into a fiery solstice or winter storm. It's up to the audience to help Ella find her path back to her winter dream. This new age ice show is a great interactive show for everyone. Featuring a wonderful storyline that is sure to connect with all audiences worldwide. An amazing mix of the music of today with a twist of cirque and comedy.
Contact Arts On Stage for Tickets. Two showtimes at 10:15am and 12 Noon. Appropriate for grades PK-12.
Due to the magnitude of this show, the tickets are $10.00. Discounts and Teachers tickets still apply.
Wednesday, January 24 at 12:00pm
Kraushaar Auditorium
1021 Dulaney Valley Rd, Towson, MD 21204, USA
Event Type

Website
Cost

$10

Subscribe