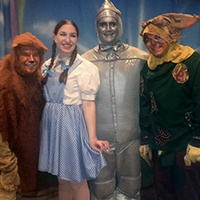 Arts on Stage: The Wizard of Oz
Explore the enchanting land over the rainbow where dreams really do come true! Make fast friends with the most famous companions in all literature. Follow the yellow brick road on a magical musical journey and share Dorothy's fantastic adventures as the stage is transformed into a world of the imagination. This original musical adaptation follows Dorothy and her dog Toto as their Kansas home is swept away by a cyclone and they find themselves in a wonderful and strange land called Oz. LIVE MUSIC! The score includes such treasured songs as Over the Rainbow Ding Dong! The Witch is Dead Follow the Yellow Brick Road If I Only Had a Brain We're Off to See the Wizard and King of the Forest.
Contact Arts On Stage for Tickets. Two showtimes at 10:15am and 12 Noon. Appropriate for grades K-6.
Tuesday, March 13 at 12:00pm
Kraushaar Auditorium
1021 Dulaney Valley Rd, Towson, MD 21204, USA
Event Type

Website
Cost

$9

Subscribe