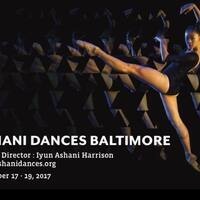 Ashani Dances FIVE!
ASHANI DANCES will present FIVE!, the company's fifth performance, from November 17-19, 2017 at the Baltimore Theatre Project. Ashani Dances is a resident dance company for Goucher College's Center for Dance, Music and Theatre, where Harrison is a dance professor. Ashani Dances' FIVE! will present four original contemporary ballets by Harrison.
In response to Ashani Dances' Baltimore debut performance, Andrew Sargus Klein of Bmoreart.com wrote, "Love Me, Now Leave Me Alone is an important reminder that dance is a powerfully responsive tool, one that has the power to delve deeply, and then go beyond, visual work like Hopper's ... there were beautiful, breathtaking glimpses of intimacy and melancholy, love and despair: all Hopper-esque, but also universal and evergreen."
Ashani Dances will also present a special student concert choreographed and performed by Goucher College's Dancers of Color Coalition (DOCC). This one time, unique event will be on Saturday, November 18 at 2pm at Baltimore Theatre Project. The concert will feature works choreographed and performed by students and is a tribute to artists of color who have paved the way for current generations. This collaboration between students and Ashani Dances demonstrates the unique niche that Harrison has created for the local dance community and demonstrates the company's commitment to providing mentorship and opportunities for emerging local talent.
Sunday, November 19, 2017 at 5:00pm to 6:30pm
Baltimore Theatre Project 45 W Preston St, Baltimore, MD 21201
Event Type

Departments

Website
Cost

$15 - $25

Subscribe