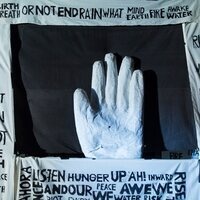 BREAD AND PUPPET THEATER, "THE BASIC BYE-BYE SHOW"
The legendary Bread and Puppet Theater is coming to Baltimore's 2640 Space (St. Paul Street) to perform their new play. Director, Peter Schumann says of the show "...our culture is saying its basic bye-bye to Mother Earth by continuing the devasting effects of the global economy on our planet ... our show proclaims the Possibilitarian's basic bye-bye to capitalism in order to welcome the 1000 alternatives to this rotten system."
Goucher will provide free transportation for the first 19 people who submit requests. To reserve a seat or to learn more about the event contact Allison Campbell at allison.campbell@goucher.edu.
This trip is made possible because of support from the Dorothy Stimson Lectureship Fund, the Goucher College Theatre Program, and the Theme Semester.
For more information about Bread and Puppet visit http://breadandpuppet.org/
Admission by donation: $5-$20 suggested.
Photo: Leonardo March
Wednesday, April 4 at 6:30pm
Bus leaves from Dorsey Circle at 6:30 for the 7:30 show
Event Type

Departments

Website
Cost

Free

Subscribe