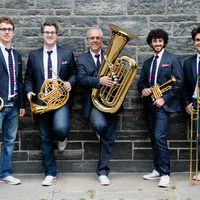 Canadian Brass: 53rd Annual Rosenberg Lecture-Performance
Canadian Brass, hailed as "the world's most famous brass group," will be featured at Goucher College's 53rd Annual Henry and Ruth Blaustein Rosenberg Lecture-Performance on Sunday, March 3, at 7 p.m. in Kraushaar Auditorium.
This event is open to the public, but tickets are required for all attendees. Tickets are free for Goucher students, faculty, staff, and alumnae/i; $10 for general admission. Reservations must be made in advance by logging on to www.goucher.edu/tickets or by calling 410-337-6333.
Sunday, March 3, 2013 at 7:00pm
Kraushaar Auditorium
1021 Dulaney Valley Rd, Towson, MD 21204, USA
Event Type

Departments
Cost

Tickets are free for Goucher students, faculty, staff, and alumnae/i; $10 for general admission.

Hashtag

Subscribe