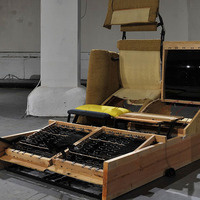 Dre Britton: Structural Integrity
Structural Integrity is comprised of found furniture and fractured objects culled from the city streets of Baltimore. The level of decay evident in each object dictates the extent to which Britton formally intervenes in developing his sculptures, paintings, and hybridized three-dimensional works of art. Methodically exploring these degrading structures, bolstering support mechanisms, and considering the formal elements such as; weight, mass, volume, color, and texture of each object is what drives the aesthetic choices of his studio practice.
An artist's talk and reception will be held Tuesday, March 7th, 2017 from 6 to 8 p.m., in the Silber Art Gallery.
Tuesday, March 7, 2017 at 11:00am to 6:00pm
Silber Art Gallery, the Athenaeum
1021 Dulaney Valley Rd, Towson, MD 21204, USA