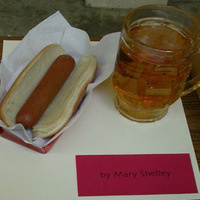 Edible Book Fest
The Edible Book Fest celebrates two of the best things in the world: food and books!

Only 2 Rules!
1) All or part of the entry has to be made out of something edible

2) The entry must reference books in some way either through the title, characters, book cover, etc
Anyone can enter and you can bring as many entries as you like!
Visitors to the Edible Book Fest decide by popular vote (voting ends at 12:30 pm and the results are announced shortly thereafter) the winners of the contest in the following categories:

Funniest
Most Edible
Most Creative

Winners get a certificate and bragging rights for a year!

Snacks will be provided and after the winners are announced we eat the entries!
Monday, April 2 at 11:30am to 1:00pm
Athenaeum - , Hallway outside Library's 3rd floor entry 1021 Dulaney Valley Road
Event Type

Departments
Cost

no tickets/free

Subscribe