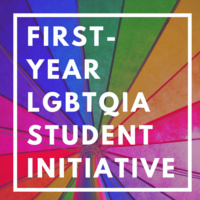 Goucher First-Year LGBTQIA Student Initiative: Exploring & Navigating Identity
"College is a time for self-exploration", they say. No pressure or anything.
Please join us on Thursday, September 6, 2018 from 4:30-5:30pm in Batza as we come together to explore identity and navigate the winding roads of authenticity, vulnerability, truth, and just plain celebration of all the things that make you you.
Please RSVP at www.goucher.edu/lgbtqia-dinner
The mission of the Goucher First Year LGBTQIA Student Initiative is to affirm, support, and provide guidance to our LGBTQIA and questioning students from the beginning of their Goucher journey. Our goal is for LGBTQIA first-year and transfer students to build community, socialize, and learn about the various resources and tools for navigating Goucher and beyond.
Thursday, September 6, 2018 at 4:30pm to 5:30pm
Batza Room of the Athenaeum
1021 Dulaney Valley Rd, Towson, MD 21204, USA
Event Type

Departments
Subscribe