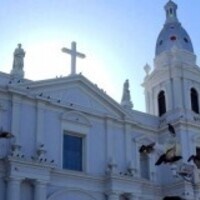 Alumnae/i Dinner in Ponce, Puerto Rico
The Goucher College Swim Team will be having a buffet supper with local Goucher alumnae/i and friends during their upcoming trip to Puerto Rico.
Wednesday, January 9, 2013
6 p.m.
The Hilton Ponce Golf and Casino Resort
1150 Caribe Avenue
Ponce, Puerto Rico 00716
Please join them for news of the college and to meet current Goucher students, parents, and fellow alumnae/i.
Respond by Friday, January 4, 2013 by email to peggy.larsen@goucher.edu or by phone to 800-566-6499.
This event is co-sponsored by the Office of Alumnae/i Programs and the Department of Athletics.
Wednesday, January 9, 2013 at 6:00pm
Hilton Ponce Golf and Casino Resort
Event Type

Departments

Tags
Hashtag

Subscribe