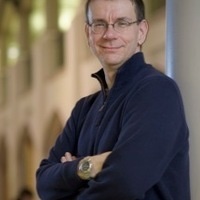 Information Makes Us Human
By Joe Janes, Associate Professor and MLIS Program Chair at the University of Washington's iSchool

Janes will relate "the story of information in its myriad guises and forms and uses, how it affected and is affected by us and by our quest to understand and make meaning of the world around us." In addition to his regular column "Internet Librarian" for American Libraries, Janes recently launched the podcast "Documents that Changed the World," which discusses the origin of historically important documents, their original meaning and how that meaning has changed along with our world.
Light refreshments will be available after the lecture.
This event is free and open to the public, but all attendees must reserve tickets at www.goucher.edu/tickets. For questions about the ticketing process, please contact the Events Office at boxoffice@goucher.edu or 410-337-6333.
For more information, please contact Randi Kennedy at Randalynn.kennedy@goucher.edu or 410-337-6362.
Free parking is available in the Dorsey Center lot. Please follow signs for Athenaeum events.
Sponsored by the Laura Graham Cooper Lectureship, the Katharine Parker Scholl Library Fund, and the Friends of the Goucher College Library.
Monday, March 25, 2013 at 3:30pm to 5:00pm
Batza Room of the Athenaeum
1021 Dulaney Valley Rd, Towson, MD 21204, USA
Event Type

Departments
Hashtag

Subscribe