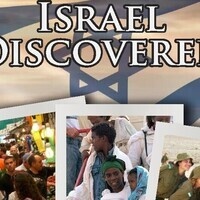 Israel Discovered Trip
Israel Discovered is an in-depth exploration of Israel for a select group of interfaith students from Towson, Goucher and UMBC. A small group of students will travel together with Hillel staff to experience the beauty and texture of the land and people of Israel. The group will visit many sites fostering interfaith dialogue. Students will have the opportunity to explore the complex intersection of religion and democracy in Israel as well as the politics of Israel's relationship with the Palestinians. Together, we will learn about Israel's long history, as well as groundbreaking technological advances in ecology, water conservation and the high tech industry. Israel is a tiny country with a rich history and complex issues. This trip will be a broad and open exploration of the many complexities of Israel, hopefully fostering open and honest dialogue, rich conversations and close friendships amongst group members.
Dates: The trip will leave out of Newark Airport on January 9th -18th, 2018. Participants are responsible for getting to Newark Airport on the 9th and from there the group will be traveling together
Eligibility:
• Enrollment is limited to 8 Towson students, 8 Goucher Students and 8 UMBC students.
• Non-Jewish applicants must hold a leadership position on campus.
• Jewish students must have traveled to Israel before and be involved in Jewish life on campus
• All Applicants must have a term GPA of 3.0 (N/A for First Year and new Transfer students) and be in good academic and disciplinary standing.
Other Logistics and Application:
We are looking for 8 total students from Goucher - likely a balance of 2-3 Jewish students and 5-6 non-Jewish students. The trip is heavily subsidized - students only have to pay $300 plus covering 1 meal a day. The trip is not an ICA and does not count toward study abroad requirements. We are looking for all applications to be submitted by Friday November 10 - we have already received applications and it seems there is growing interest. Here is the application link. Please feel free to be in touch with Rabbi Josh Snyder at josh.snyder@goucher.edu with any questions!
Tuesday, January 9 at 12:00am
Event Type
Group

Subscribe