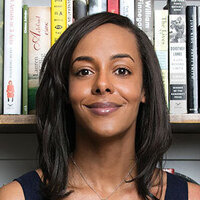 "The Real Life of the American Reader" with Lisa Lucas
Lisa Lucas, Executive Director of the National Book Foundation, will share her perspectives on "The Real Life of the American Reader: There is no one American dream, no singular American narrative." At a time when Americans are examining not only their country but their place within it, how can the most reluctant and remote of us learn more about ourselves and our neighbors though books?
Prior to joining the National Book Foundation, Ms. Lucas served as the Publisher of Guernica, a non-profit online magazine focusing on writing that explores the intersection of art and politics with an international and diverse focus, and as Director of Education at the Tribeca Film Institute. Lucas also serves on the literary council of the Brooklyn Book Festival. Find her on Twitter at @likaluca.
This public event is free to attendees and sponsored by Center for the Study of Humanities and Book Studies program, as well as the "Defining Community" Theme Semester.
Thursday, February 8 at 7:30pm to 8:30pm
Kelley Lecture Hall
1021 Dulaney Valley Rd, Towson, MD 21204, USA
Event Type

Departments

Tags
Cost

FREE

Subscribe