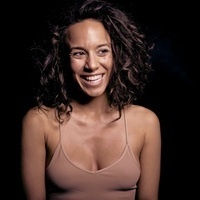 Meet the Artist with Rosie Herrera
Rosie Herrera will teach classes and set a work on Goucher dancers to be performed in the Goucher Repertory Dance Ensemble Concert on April 20 and 21. A Cuban-American dancer, choreographer and artistic director of Rosie Herrera Dance Theater in Miami, Herrera is a graduate of New World School with a BFA in Dance Performance. Her work has been commissioned by The Miami Light Project, The Adrienne Arsht Center for the Performing Arts, Dance Place, Maui Arts and Cultural Center, Ballet Hispanico, Moving Ground Dance Theater, Houston Met Dance, and the American Dance Festival (ADF) in 2010, 2011, 2013 and 2016. With over a decade of experience in both dance and cabaret, she has collaborated on productions with The South Miami Dade Cultural Arts Center, New World School of the Arts, The University of Central Florida, Six Floor Ensemble, Zoetic Stage and the New World Symphony as well as with the interdisciplinary performance ensembles and filmmakers. She has won numerous awards for her choreography including the Princess Grace Choreographic Fellowship.
Meet guest artist-in-residence Rosie Herrera, ask questions, hear about her creative endeavors, and watch Goucher dancers rehearse her work for the upcoming Goucher Repertory Dance Ensemble concert. Free and open to the public.
Friday, March 9 at 6:00pm to 7:00pm
Todd Dance Studio, 104 1021 Dulaney Valley Rd