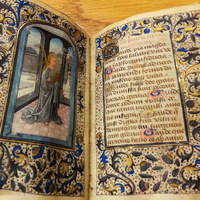 Meet the Berners Hours
Meet the Berners Hours, a Fifteenth-Century Prayer Book
Please join the Friends of the Goucher College Library to celebrate the acquisition of the Berners Hours, a 15th-century illuminated manuscript prayer book. Learn how this single book, not much bigger than an iPhone5, and its rich store of evidence can supply Goucher students with subjects for research for many years.
A reception with light fare and refreshments will be followed by a lecture.
Thursday, February 22, 2018
5:30 to 7 p.m.
Batza Room, Ungar Athenaeum
Arnold Sanders professor emeritus of English will present a history of the manuscript, its owners, and scholarship to suggest that female scribes and illuminators worked on the Berners Hours. The manuscript was donated in 2017 by Sanders and his wife, Laura Provan, in honor of their parents and Nancy Magnuson, college librarian emerita. Professor Sanders continues to teach a course in the history of the book and his wife is a docent who leads tours of the Walters Art Museum, including examples of its extraordinary medieval manuscript collection.
Additional sponsorship provided by the Book Studies Program and the Brooke and Carol Peirce Center for Undergraduate Research. This event is free and open to the public. Free parking is available in the Dorsey College Center lot. Follow signs to Athenaeum. The snow date is February 28.
To learn more about the Berners Hours please visit: http://www.goucher.edu/news/college-library-acquires-medieval-prayer-book.
Thursday, February 22 at 5:30pm to 7:00pm
Goucher College, Batza Room, Ungar Athenaeum 1021 Dulaney Valley Rd, Baltimore, Md 21204
Event Type

Departments
Subscribe