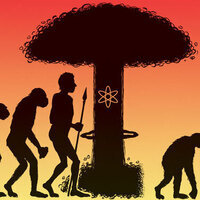 Two Minutes to Midnight: What We Can Do to Prevent Nuclear War
Students, alumnae/i, and the broader Baltimore community will develop strategies for local solutions to prevent nuclear war. Lunch will be provided.
RSVP: https://secure.psr.org/page/29755/data/1
Event Sponsors:
Prevent Nuclear War Maryland
Chesapeake Physicians for Social Responsibility
Peace Action Montgomery
Peace Studies Program, Goucher College
Daryl G. Kimball, Executive Director of Arms Control Association
Dr. Ira Helfand, former co-president of International Physicians for the Prevention of Nuclear War
Dr. Vincent Intondi, Montgomery College Associate Professor of History, Director of the Institute for Race, Justice & Community Engagement and author of African Americans Against the Bomb
Ray Acheson, Director of Reaching Critical Will/Women's International League for Peace and Freedom.
Saturday, November 17, 2018 at 10:00am to 4:00pm
Kelley Lecture Hall
1021 Dulaney Valley Rd, Towson, MD 21204, USA
Event Type

Departments
Cost

Free

Subscribe