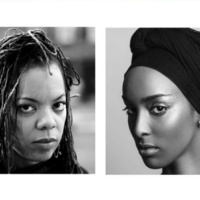 Poets Airea D. Matthews and Ladan Osman
Somali born Ladan Osman is the winner of the Sillerman First Book Prize whose writing is a lyric and exegetic response to problems of race, gender, displacement, and colonialism. She examines existence in roles where imagination around female ability is limited, in the many spaces where women are so often denied automatic credibility and their logic is assumed fallible.
Airea D. Matthews' first collection of poems, Simulacra, recipient of the 2016 Yale Series of Younger Poets Award, has received praise from outlets including The New Yorker and The Washington Post. Her work has appeared in The Rumpus, Best American Poets 2015, American Poet, and elsewhere. She received the 2016 Rona Jaffe Foundation Writers' Award and was awarded the Louis Untermeyer Scholarship in 2016 from Bread Loaf Writers' Conference. Ms. Matthews is working on her second poetry collection, under/class, which explores poverty. She is an assistant professor at Bryn Mawr College.
They will share both visual art and poems, and be in conversation afterward.
This is the first event, "Communities Past and (Afro)future," in the Kratz Center's spring poetry series, Poetry as Community.
Thursday, February 15 at 7:00pm to 9:00pm
Kelley Lecture Hall
1021 Dulaney Valley Rd, Towson, MD 21204, USA
Event Type

Departments
Subscribe