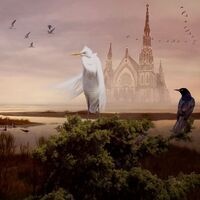 Rose Anderson: RELICS OF INDUSTRY, NATURE AS SANCTUARY
Baltimore, MD —Rose Anderson: Relics of Industry, Nature as Sanctuary will be presented at Goucher College's Rosenberg Gallery in the Kraushaar Auditorium from February 28 through April 9, 2018.
Rose Anderson gathers photographic specimens while searching wild, untouched places for whispers of humanity in nature. She combines moments captured in different times and places to illustrate a story outside the time, space, and social constructs that enclose the human narrative. Her work imagines a world in which all of today's conversations have gone silent, and human roles are usurped by non-human characters. Relics of human society and industry as we understand them--as separate from and dominating over nature--are incidental, relegated to the background. Suspending our awareness of the constructs we build to inoculate ourselves against the inevitability of time and the forces of nature, we are left to contemplate the human condition in a larger context. We can gaze into nature without fear, see ourselves in it, and find sanctuary in something larger than ourselves.
Rose Anderson was born in the late 1970s to a poor and extremely religious family in southern Maryland. Seeking to resolve her internal struggle with the indoctrination and isolation that defined her early life, Anderson secretly studied nature, history, and the arts. As a young adult in the early 2000s, she broke away from her childhood religious community to enter mainstream society and build a career in the software industry. She began experimenting with digital photography and Photoshop to create a visual representation of her inner world and in 2014 began exhibiting as a professional artist in universities, galleries, and science and natural history organizations. Anderson now lives just outside Baltimore, using her property adjacent Gunpowder Falls State Park as a center for building community around nature and the arts.
This exhibit, which is free, open to the public, and accessible to all, can be viewed Monday through Friday from 9 a.m. to 5 p.m. An artist's reception and talk will be held Thursday, March 8, 2018 from 6 to 8 p.m. Visit http://www.goucher.edu/rosenberg or call (410) 337-6477 for more information. Please note Goucher's campus will be closed for Spring Break March 17-25, 2018.
Monday, April 9 at 9:00am to 5:00pm
Kraushaar Auditorium, Rosenberg Gallery
1021 Dulaney Valley Rd, Towson, MD 21204, USA
Event Type

Departments

Website
Subscribe