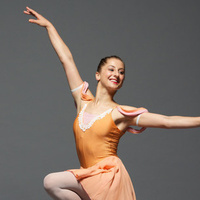 Second Annual Sophia Kurek Dance-A-Thon
The second annual Sophia Kurek Dance-A-Thon will have a masquerade theme, so please gather your friends and create a team (or register as an individual). Dress up and join us. Prizes will be given for the best mask and best team spirit.
The Dance-A-Thon honors the late Sophia Kurek '13, a Goucher student, who loved life and all the adventures it had to offer. She also valued the community created through dance during her time as a student at Goucher College. A Dance-A-Thon is a way to honor Sophia's passion for dance in the spirit of camaraderie, all for a good cause: The Sophia Kurek Memorial Scholarship Fund.
Aside from dancing with your team or as an individual, we will have mini classes throughout the afternoon, raffles, team prizes, food, dance-offs, and a special performance to finish it off! Classes are meant for everyone, whether you've danced before or are looking to learn something new. Our number one goal is to simply have fun!
4:15-5pm - Zumba with Karen Birckhead
5-5:30pm - Free Dance
5:30-6:15pm - Folk Dance with Ken Skrzesz
Silent Auction Drawing #1
6:30-7pm - Free Dance
7-7:45pm - Line Dancing with Bob Russell
8-8:30pm Free Dance
Silent Auction Drawing #2
8:45-9:30 - African with Stephanie Powell
9:30 - Prizes
10pm - Special Performance featuring Goucher Dance Alums followed by final Silent Auction drawing!
For more information about the event, and to register, please visit: http://sophiakurekdanceathon.webs.com/
*Proceeds from this event will go to The Sophia Kurek Memorial Scholarship Fund.
Saturday, September 24, 2016 at 4:00pm to 10:00pm
Lilian Welsh Gym
1021 Dulaney Valley Rd, Towson, MD 21204, USA
Event Type

Departments

Website
Cost

$10/Person

Group

Subscribe