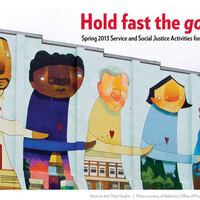 Social Justice and Nonprofit Networking Event
Want to know who else is holding fast the good? This special, informal reception is a great opportunity to meet other area alumnae/i working in nonprofit/social justice fields and to learn about what current students are doing to affect social change.
RSVP to Sarah Stockbridge at alumni@goucher.edu or call 410-337-6180 by February 22.
https://www.facebook.com/event.php?eid=482789138452617
Special Note: Goucher Hillel will have Shabbat dinner at the Weinberg Jewish Student Center at 6:00 p.m. Alumnae/i who would like to stay for dinner should contact Yona Gorelick at yona.gorelick@mail.goucher.edu.
Friday, March 1, 2013 at 4:30pm to 6:30pm
Goucher College Alumnae/i House, Buchner Hall 1021 Dulaney Valley Road, Baltimore, MD 21204
Event Type

Departments
Hashtag

Subscribe