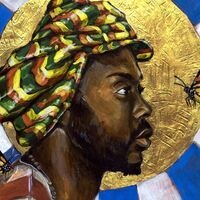 Stephen Towns: A Migration
Stephen Towns paintings and mixed works explore African Diaspora through portraiture, and often incorporate insects, such as butterflies, as metaphor. His work is a direct response to the many issues plaguing African American culture; issues such as loss of ancestral roots, slavery, class, education, skin tone, and religion. These works reflect Towns own struggles to attain a sense of self-knowledge, self-worth, and spirituality beyond the Christian values that are often idealized in African American culture. Drawing from personal experience and research Towns work is densely layered and symbolizes endurance, strength, and spirituality; while simultaneously embodying each of his subjects. A Migration is a collection of new and previous works highlighting the migration of Africans to the Americas. These works provided Towns an outlet to process all that he has learned about the violence of American history and impart a framework on how to navigate and articulate the current anger and frustration that exists throughout the nation and the world today.
Stephen Towns: A Migration, will be presented at Goucher College's Rosenberg Gallery in the Kraushaar Auditorium from August 16 through October 16th, 2017. This exhibit, which is free, open to the public, and accessible to all, can be viewed Monday through Friday from 9 a.m. to 5 p.m. An artist's reception will be held Tuesday, September 12th, 2017 from 6 to 8 p.m. Please visit www.goucher.edu/rosenberg or call 410-337-6477 for more information.
Monday, October 16, 2017 at 9:00am to 5:00pm
Rosenberg Gallery
1021 Dulaney Valley Rd, Towson, MD 21204, USA
Event Type

Departments

Website
Subscribe