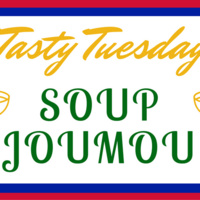 Tasty Tuesday: Soup Joumou
The first Tuesday of every month, CREI features food from a different culture for the community to taste. The Center holds Tasty Tuesday events to provide a space for learning about relationships between culture and food.
February's Tasty Tuesday event will occur on the second Tuesday of the month. Join us in CREI on February 13th, 2018 from 3:30-4:30 to learn about Soup Joumou.
Soup Joumou is a Haitian dish prepared with squash, beef, and many other delicious ingredients. Together we will learn about Soup Joumou's history, and explore Soup Joumou's relationship to Haitian culture today.
Tuesday, February 13 at 3:30pm to 4:30pm
Athenaeum, 422/CREI
1021 Dulaney Valley Rd, Towson, MD 21204, USA
Event Type

Departments
Subscribe