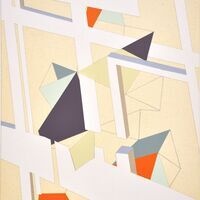 Timothy J Horjus: Subverted Sublime
Timothy J Horjus: Subverted Sublime, a solo exhibition of paintings will be presented in Goucher College's Rosenberg Gallery in the Kraushaar Auditorium from January 17 through February 26, 2018.
Horjus creates artwork that functions aesthetically within the framework of high formalism and the stylistic tendencies of post-painterly abstraction. His paintings are pretty and handsome, and visually cling to the antiquated ideals of modernism, however, through a conceptual base and contemporary references, they also function within the current cultural discussion of information transmission.
These works evoke a sense of illusory social space by utilizing the language of modernism in conjunction with traditional references to discuss our reliance on digitally produced and transmitted information. Through this lens of modernisms' embrace of painting and its process, he attempts to subvert, yet at the same time embrace the antiquated ideals of a historical painting. Unlike the exclusion of space in modernist painting, he seeks to acknowledge and deny the historical precedent for illusory space as representation of the real. Within this contradiction he attempts to evoke the space of the contemporary condition; which is one of awkwardness. We find ourselves increasingly pushing away 'real' experiences in-lieu of digital ones, all the while continuing to yearn for more human interactions. This situation is displayed through the antagonistic use of digitized information over the top of the contemporized reference to a historic sublime. The 'networks' that are placed over the pictorial space, function as a stoppage, yet flirtatiously interact with the space of the painting in a way that is simultaneously confusing and awkward.
The digitized layers act as networks; they are the experience of being human in a digital world, our function as the cells/nodes/screens for the interplay of constant information. The balance between maintaining our humanness, and succumbing to the random deluge of text messages, pop up ads, email, youtube, and spam, the necessity of interconnectedness. The titles of Horjus' works are the anonymous subject lines of spam emails, highlighting what he feels is the universal concept behind his work; in other words, the incessant bombardment of useless information. The ubiquity of these subject lines has started to create a new language, one that is global in its reach and recognizable by its abbreviations, misspelled words, and inferences. This new vernacular is the contemporizing of language as the classical seeks to deal with the changes necessitated by technology and is recognizable through its awkward use of seemingly recognizable elements in a new way.
This exhibit, which is free, open to the public, and accessible to all, can be viewed Monday through Friday from 9 a.m. to 5 p.m. An artist's reception and talk will be held Friday, February 9th, 2018 from 6 to 9 p.m. Please visit http://www.goucher.edu/rosenberg or call 410-337-6477 for more information.
Monday, February 26 at 9:00am to 5:00pm
Rosenberg Gallery
1021 Dulaney Valley Rd, Towson, MD 21204, USA
Event Type

Departments

Website
Subscribe