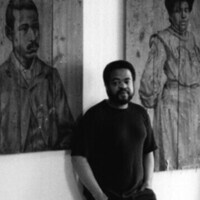 Artist Talk with Whitfield Lovell
Whitfield Lovell is internationally renowned for his installations that incorporate masterful Conte crayon portraits of anonymous African Americans from between the Emancipation Proclamation and the Civil Rights Movement. Using vintage photography as his source, Lovell often pairs his subjects with found objects, evoking personal memories, ancestral connections, and the collective American past. In 2007, Lovell was awarded with a MacArthur Foundation fellowship, often referred to as the "genius grant."
Works by Whitfield Lovell are featured in major museum collections including The Whitney Museum of American Art, NY; The Metropolitan Museum of Art, NY: The Smithsonian American Art Museum & The Smithsonian National Museum of African American History and Culture, DC; The Studio Museum in Harlem, NY, and many others.
He will talk about his work, his practice and his experiences as an artist. He will also lay groundwork of the African American experience from reconstruction through the civil rights era. Lovell creates installations informed by contemporary art practices, folk art, vernacular art, and the physical conditions of marginalized communities. His work references the history of African-American community along with being current with culture and ultimately the larger culture of America. Lovell is visiting Goucher as a part of the Center for Art & Media 2018 Unobskey Visiting Artist Series.
This event is free and open to the public, but tickets should be reserved online at http://tickets.goucher.edu or contact Goucher's Box Office at 410-337-6333.
Thursday, March 29 at 7:00pm to 8:30pm
Kraushaar Auditorium
1021 Dulaney Valley Rd, Towson, MD 21204, USA
Event Type

Departments
Cost

Free

Subscribe