Margaret M. Winslow Great Lawn
A green expanse between the Athenaeum and Welsh Hall, the Winslow Great Lawn is the setting for welcoming festivities and Commencement, as well as plenty of picnics and Frisbee games.
39.407475, -76.592985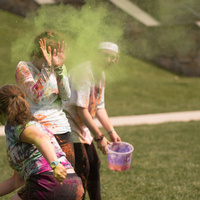 Come play Holi with us! Wear old clothes* (white is traditional!) and join us in celebrating the Indian and Nepali festival of Holi. It is a festival of...
Goucher College's 128th Commencement will be held on Friday, May 24, 2019, at 10:30 a.m. on the Margaret M. Winslow Great Lawn, between the Athenaeum and...
Recent Events